Signé Laval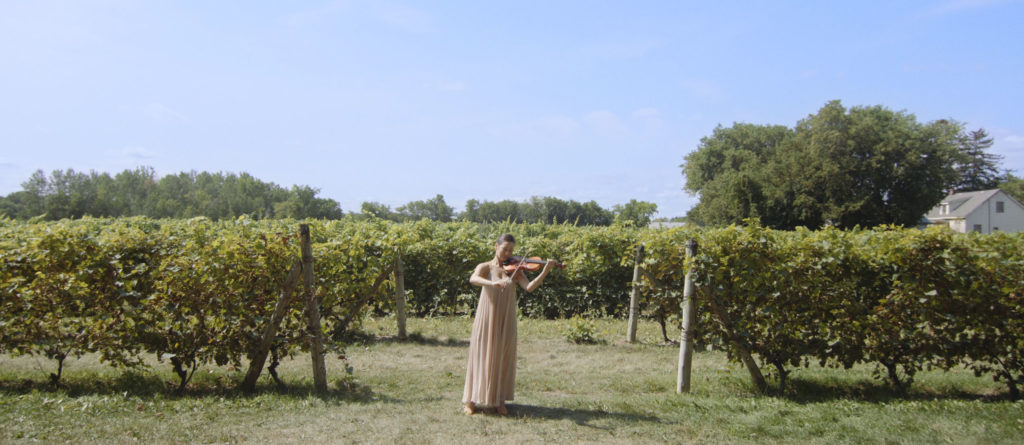 Audio and video production
Signé Laval
Signé Laval is a collaborative platform that promotes culture on its territory.
The Project
Signé Laval has partnered with Molotov to launch a series of five video vignettes featuring performances from Laval local artists. Art and nature are at the forefront of this project with a cinematic aesthetic. Our fiery production team has put its heart and soul into the production of these cultural vignettes. The agency's communications department designed an effective campaign to make them shine in the public space. These vignettes were filmed in iconic places in the city. Laval will never cease to amaze you!
In the heart of Laval, there is a vineyard, which extends close to a castle. The violinist Uliana Drugova performs excerpts from Biber's passacaglia for solo violin. Composed around 1678, this work by Heinrich Biber is part of the Rosary Sonatas, considered a masterpiece of the Baroque. An elegant piece that blends perfectly with the romantic setting of Château Taillefer Lafon.
"I have chosen a few excerpts from this Passacaglia which I will play for you in the form of a large arch. I find in it both the intensity and the serenity found in nature, the voice of the violin being similar to the human soul."
— Uliana Drugova
Vahram Sarkissian performs Manook for voice and playback, in the sublime setting of Saint-Théophile church in Laval.
This original piece, which he composed especially for the video vignette, takes the form of a monologue to explore the themes of desire, sadness, nostalgia and loss. It evokes the flow of thoughts and emotions that go through a parent who misses his or her child ("manook" means "child" in Armenian).
A summer morning in August, in the heart of the Orée-des-Bois woodland, dancer Shérane Figaro walks to a footbridge, a tangible link between the woodland and the waterfront. She explores the theme of meeting the other, in a choreography she created for the video on the title Lakoua. She delivers her interpretation of the themes of recognition of territory and exploration of space in movement.
Actress Hynda Benabdallah recite a poem by Charles Dionne, La berge, on the Olivier-Charbonneau bank. The Laval writer and scriptwriter was inspired by the site to compose this original poem, especially for the Détours culturels.
This riverbank has the particularity of being a meeting point of the two rivers that border Laval: the Mille Îles River and the Des Prairies River. Bathed in the soft light of a summer evening, it becomes a setting for Hynda Benabdallah's performance.
At the turn of a path at the Centre de la nature, performance artist Jean-Philippe Luckhurst-Cartier ventures near one of the sculptures erected at the Laval International Sculpture Symposium in 1990. It is Pionnier anonyme, by Canadian conceptual and land art artist Bill Vazan. The work inspires Jean-Philippe to create a performance that focuses on the context, history and geography of this human figure in stone.